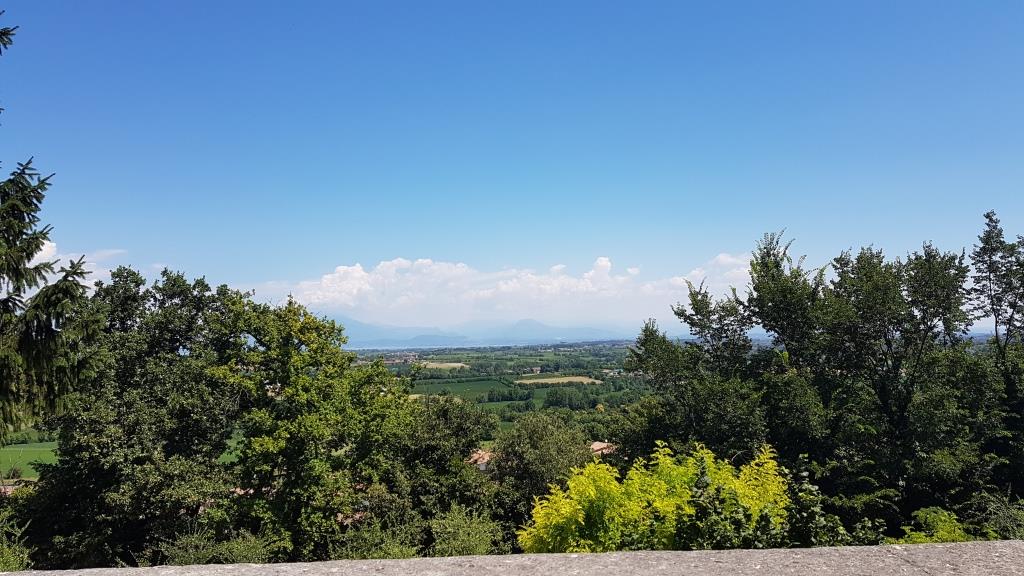 LUGANA: WINE AND DESTINATION OF AN ITALIAN DREAM
Lugana is the name of an Italian doc white wine, increasingly known to international wine professionals. For us, the "locals" is a small area south of Lake Garda, in the municipality of Sirmione, one of the best-known tourist destinations in Italy. The meeting of these two realities makes people talk about this place in the world. Between wine experience, active tourism, and history, few other sites can offer such an intense Italian holiday.
CONTINENTAL, BUT NOT TOO MUCH
Lugana is originally a portion of land limited on the coast of Lake Garda in the north, region Veneto on the east, the adjacent municipalities on the south and the west. It is an almost flat area except for some soft slopes. It belongs on the continental side of the country. Nevertheless, it enjoys a specific climate, thanks to the moderate winds of Lake Garda.
Climate, brightness, and wind are the precondition for the cultivation of the vine together with the clayey limestone soils.
THE GREAT LAKE AND THERMAL WATER …
Lake Garda goes almost unnoticed when it comes to wine, almost as if its discreet presence was casual. Unfortunately, it is so big and important that it remains a protagonist. It has been a tourist destination for central and northern European people since the early twentieth century. It is not a chance if those countries are the best destinations for wines and other products produced locally. Ironically, the south of the lake is an attractive source of thermal waters, too. These waters made Sirmione famous in the last century as a thermal destination. Even today, 5 stars hotels and public spa offer spa treatments for every target customer, almost a confirmation that here water is more important than wine.
AND THE GREAT STAR
Sirmione, of which Lugana is a part, has a long and famous history. Heritage is the 2000-year-old archaeological site located on the top of the peninsula. But the last international star who inhabited the place was Maria Callas, star of the opera of the second half of the twentieth century, before being conquered by a great love story of the time.
THE GREAT TOWER AND THE ITALIAN DREAM
From the Sirmione exit of the A4, the Tower of San Martino accompanies the gaze of cyclists, history buffs, and simply curious, who wonder what that building that stands among the vineyards represents. It testifies to an ambitious and challenging ideal of a time when even Italy was only a "dream" in the minds and hearts of its inhabitants.
Right between these hills, up to Solferino just in front of a few kilometers, a very bloody battle took place. That fight allowed to make a fundamental step towards the unification of Italy.
LOCAL GASTRONOMY
Such a variety of offerings also find ways to surprise at the table. Lugana and lower Garda lie in very congested areas. Even in the past, the easy access to this region made possible quick and frequent exchange between mountainous, flatlands, and lake. Therefore, local cuisine could always count on many products of different origins. Meat, cheese, olive oil, wines, rice, fish are still present and mixed in several courses.
In our time, young chefs dare to create new receipts mixing traditional products in new formulas.
LUGANA DOC: QUANTI VINI?
È con l'acronimo DOC che il territorio diventa vino oppure un alimento. Il Lugana doc nella versione standard si associa ad un vino bianco fermo, giovane, mediamente strutturato. Deriva da uve Turbiana, vitigno autoctono in origine assimilabile al Verdicchio che conosciamo in altre regioni italiane. Il winelover tuttavia merita di conoscere anche le altre tipologie della denominazione, meno famose, ma più ricercate per nasi esigenti e per enocuriosi delle peculiarità. Cominciamo:
Lugana Superiore – è sottoposto ad un affinamento minimo di 12 mesi e presenta un profilo più variegato e complesso. La gradazione alcolica minima è 12 gradi
Lugana Riserva – 24 mesi minimo di affinamento di cui 6 in bottiglia
Lugana Spumante – Metodo Martinotti oppure Metodo Classico, il produttore quale stile e processo sono più confacenti al proprio progetto di spumante
Lugana Vendemmia Tardiva – in Italia è meno comune dello stile "passito", di sicuro merita l'attenzione dell'appassionato per abbinamenti inusuali o per un momento da celebrare (o da dimenticare! ????)
A NEW WINE DESTINATION?
Can Lugana become a wine destination? It would even be too easy. There is another original and precious wine in the area, a "hidden gem" of so few bottles that the producers reserve only for visitors to the cellar.
Finally, the territory of southern Lake Garda is strategically the hub for a 360-degree wine destination. In addition to Lugana, two other great well-known wine destinations in northern Italy are reachable in about an hour: Valpolicella in the east for the great red wines and Franciacorta in the west for the great Traditional Method Spumante. Are you already booking?